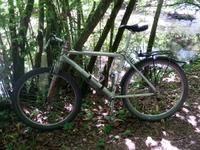 When I was in high school, I used to be somewhat more of a bike enthusiast. Some days, I would just ride 25km into the city, buy a bottle of water, and then ride back, because that's what I did. That enthusiasm faded away when I moved to Zurich - a city that is not only home to a couple of vicious hills, but also to an awesome public transport system. I did buy a used bike at some point, but in contrast to my public transport pass I used it rather sparingly. In October, I locked it somewhere in the city, promising to ride it back home some time, and by January it was gone.
So this year, I decided to get back to biking. I let my public transport ticket run out and bought a "new" bike - that one in the picture. It's actually quite old, it has bike insurance stickers from the late 90s, but the components are pretty good.
Results
I bought my bike on April 10 and started using it immediately. I used it to get to work most days, and when my train pass ran out on May 6th, every day. Including a trip of 120km around the lake and some others, I estimate a total distance of over 1000km.
Money
I tried to figure out if this bike purchase was actually saving me money or making me money. So as close as I could get, here are the results:
Expenses
Bike:
CHF 150.00
Lock:
CHF 9.10
Lights:
CHF 19.70
Batteries:
CHF 3.99
Total Expenses:
CHF 182.79
Savings
Public Transport Tickets:
CHF 73.80
Total:
CHF -108.99
Okay, this doesn't look so great, and it doesn't even include increased food consumption (which I didn't measure) and time. However, it is worth noting that most bike expenses are actually one-time fees. I could ride my bike tomorrow and not pay anything, while I would have to renew my public transport tickets. Furthermore, the timing wasn't really perfect for maximum cost efficiency: I spent almost a month having a valid monthly train ticket but not actually using it anymore, since I was riding my bike. Finally, one day, my bike light broke and I had to go by train which is why I had to subtract CHF 13.20 from my savings.
Overall, with the right timing, I could have arrived at expenses of 0 in about 2 months.
Time
Each day that I go to work by bike instead of using the train, I only spend an additional 10 minutes per direction for my commute - and my commute is already pretty long. Over the time, those 10 minutes accumulated to about 12 hours. This does not include the additional time needed for showers. At least, I save a bit of time when grocery shopping now, since I don't have to walk to the store anymore.
Stuff that's hard to measure
I'm pretty sure there are some health benefits to biking. I know that my leg muscles have gotten stronger: In the beginning, I was a little bit tired at work, but that disappeared after a week or so. But overall, the health benefits are somewhat intangible.
There's quite a quality of life improvement though: I prefer biking a lot over standing (or even sitting) in a crowded train for 30 minutes doing nothing. On sunny days, that is. But even when I had to fight my way through the rain, biking did improve my mood. It might have to do with the beautiful bike route to work along the river or the physical exercise.
Is it worth it?
I think so. From here on, it only gets better: I'm more accustomed to biking and from now on I'm saving money. I feel like the bike is pretty low-maintenance, over the >1000km, I've only had to add air to the tires and oil to the chain. Sadly, I might have to buy a train ticket in winter again.