I've been trying Soylents as meal replacement for a while now, for those weekends when I'm too lazy to cook anything or don't want to spend my time doing the dishes. In general, it works pretty well, but I don't think I could live off Soylent exclusively, I start craving solid food after a day or so.
After I tried out the relatively known brands Joylent and Queal which I may write about some other day, I decided to venture into some lesser known european Soylent variants, a.k.a. "Eurolents". I ordered some starter packs of Nutrilent, Nano and 1food and tried them out in no particular order.
Nutrilent
Nutrilent comes with very stylish packaging and a very nice shaker bottle. The bottle is larger than the regular kind you get from most Soylents, the scale on the side goes up to 700ml. It closes tightly (if you don't manage to screw on the top slightly slanted, in which case your Soylent will fly all over the place while shaking, go me). It's quickly become my favorite shaker, since I can prepare a large amount and keep it in the fridge over the day.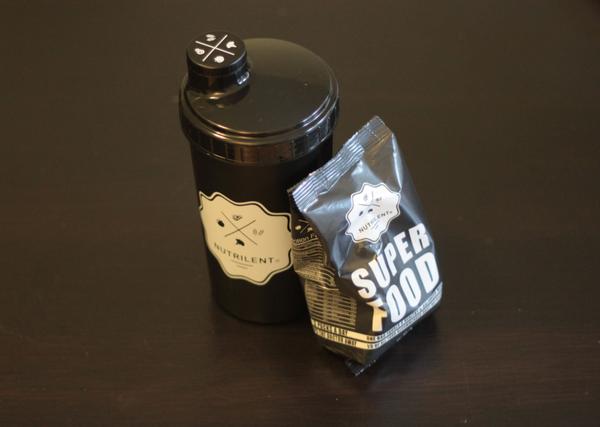 The powder is packaged for single meals instead of 3 meals like most Soylents which means a bit more waste but also more convenience since you can just empty the entire packet into your shaker. Nutrilent recommends to dissolve it in 600ml of water or milk, but I found that 500ml of water gives it a less watery consistency. I have not tried the milk variant, since that would make the comparison with others unfair :)
The texture is not completely smooth, there is usually some grainy residue near the bottom which I suppose is mostly fiber. The rest dissolves very well though - better than Queal or Nano - and I didn't find it necessary to store it in the fridge. But if you prefer your soylent to have absolutely no texture whatsoever, this may not be the one for you.
In terms of taste, I liked all four variants but there was nothing that blew me away. None of them taste overly artificial or too sweet.
The meals are filling but not too filling, probably more on the lighter side. I found myself pretty energetic. On the other hand, 3 packets were not quite enough to keep me full for a day.
At a price point of 1.83-2.50€ per meal (plus shipping if you buy less than 100€ worth), Nutrilent is in the mid-range and well worth the price. Don't buy too much at once though, the shelf life for my packets was only 3 months.
Nano
Just like Nutrilent, Nano comes in single-meal bags. However, here I really feel bad about the packaging. The Nutrilent bags are rather thin (which of course also means they are less sturdy) and light compared to these aluminium-reinforced flat plastic rectangles.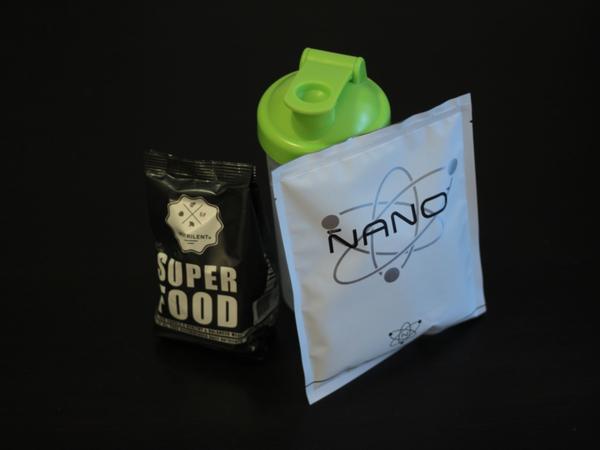 Did I say about Nutrilent that you may not like it if you don't like grainy Soylents? Well, this one has whole seeds in it. And they have a really weird consistency once in water, slimy on the outside but still with a bit of chew. The fiber residues at the bottom are also present here. Nano is also harder to dissolve and really benefits from both using a wire ball and letting it sit in the fridge.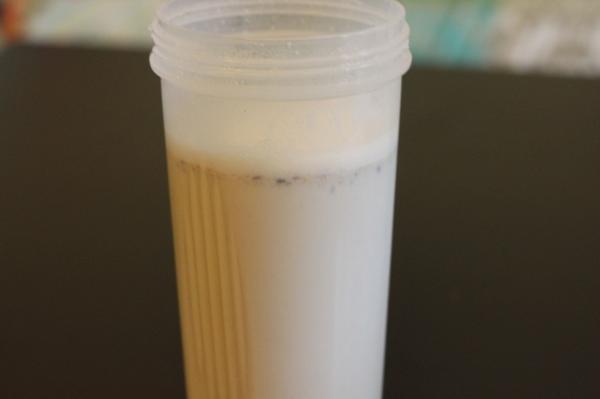 After a pack of Nano, I usually felt full at first but then hungry again after a while. This might be due to the lower protein content of 16% which puts it closer to the original Soylent 1.5 than to most "Eurolents". I had some vanilla-flavoured protein powder in my drawer, and when I added a spoonful or two that problem was solved.
Speaking of vanilla flavour, Nano describes the taste on their homepage as "a mild vanilla taste with a slight bite". Well, this might be a bit of an understatement. In my opinion it tastes like store-bought vanilla pudding, combined with a metallic overall taste. It's a bit too sweet and artificial for my taste. There are a lot milder vanilla tastes in other Soylents, for example Queal 3.0.
All that being said, the more I drink of it, the more I get used to it. I've actually come to appreciate the grainy consistency, and the vanilla taste is not as overpowering as it was in my first drink anymore.
Their nutrients are all listed as exactly 100% RDA on their factsheet, which has stirred up some skepticism (but hey, maybe they managed?), and it is GMO-free.
At a price range of 1.50-2.64€ per meal with free shipping, Nano can be extremely cheap if you buy a whopping 222 meals. And you can do that, since it has a shelf life of at least 14 months.
1food
1food is a somewhat lesser known Soylent brand from Germany. It comes in 2 different flavorings, strawberry and natural, packed in brown eco-style bags. Since Joylent already offers a pretty good strawberry flavor, I only ordered the natural one.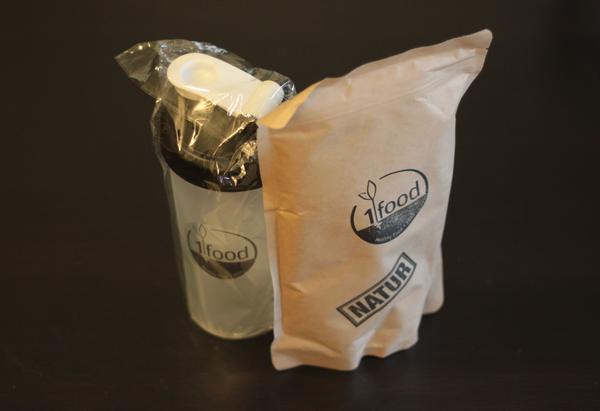 I really like the taste of 1food. Compared to other Eurolents which can often be overly sweet, this one is only lightly sweetened. The taste reminds me of toasted walnuts, slightly tangy, but in my opinion really pleasant and completely unlike the other Soylent variations I've tried so far. Interestingly, there are no walnuts in it whatsoever.
Consistency wise this one is pretty smooth, with some small grains but fewer than Nutrilent or Nano. The only problem is that sometimes little lumps don't dissolve very well, even after vigorous shaking.
I felt really full and satiated immediately after drinking a shaker of 1food. No wonder, it consists of 30% protein, 30% fat and a whopping 50g of fiber per pack. There's a reason they label their bags as 4 daily portions, because you probably shouldn't drink too much at once. But I actually prefer that over staying hungry.
1food also advertises to use non-GMO soy, if you're into that.
Finally, there are also some downsides to 1food: While 1.94-2.37€ might sound relatively moderate, shipping is not included and they only seem to ship to Germany and some neighboring countries. The expiration date is only a few months after the buying date, similar to Nutrilent. And the real big downside is: As of writing, they seem to be completely sold out, so you can't actually get it. Bummer, because apart from that it's really an excellent choice.
Verdict
1food is really my favorite of the bunch in terms of taste and fullness per drink. Nutrilent gets a honorable mention for an awesome shaker bottle and a pretty good overall product. Nano could not convince me due to its overly sweet and artificial taste and because it did not keep me filled for very long.
Links